Only 9 left in stock with 1 in shopping carts, order soon!
---
Product Description
Meet one of Aarn USA's most cherished and best hiking daypacks: the Mountain Magic. This lightweight daypack is perfect for hiking, especially up gorgeous mountains. The Mountain Magic is great for posture and comfort, designed perfectly for those who would rather capture the moment rather than worry about back pain.
Comes standard with Mountain Balance Pockets at no additional charge.

When packed correctly, the Mountain Magic won't alter your balance and posture like most backpacks.

Bag won't pull back on shoulders, a common instigator of back pain in hikers

This backpack is virtually weightless, so you don't need to worry about the added weight held by your

hiking daypack.
Hike up the mountains comfortably with this lightweight daypack. The last thing you want to worry about when you're taking in all of the scenery is the pain in your back and hips. Shop the Mountain Magic by Aarn USA, here!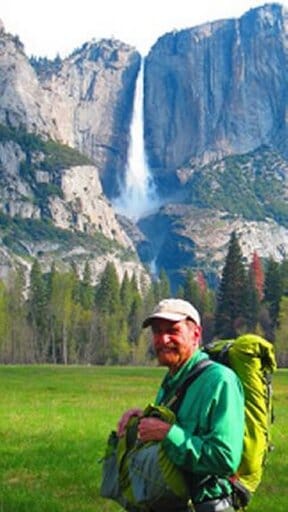 Rich and his Mountain Magic bodypack at Yosemite Falls - Apr 2017

Keep your items protected and your back feeling excellent with the Mountain Magic bag. Our comfortable backpack for hiking comes with complimentary Mountain Magic pockets which you can remove easily. For additional lightness, you can also remove the waterproof liners.
This

lightweight daypack

features U, V, Omni, and Flexi Flow as well as an Auto-form Frame, Auto-form hipbelt, and X Flow Chest Straps with Conus Clips

For organization, the bag includes three waterproof Dri-liners with roll top closures, five external pockets, and cord-loc compression

Bag also has attachments for an ice axe or trekking poles
Whether you're hiking up a fourteener or a small mountain, the Mountain Magic is going to be the best hiking daypack to bring along. Not only is it excellent for posture, but it will also feel like you're carrying nothing.
Mountain Balance Pockets - Standard and Included in Price
The Mountain Magic pockets attach nicely to this comfortable backpack for added storage. These pockets are excellent at balancing weight and work well for taller people who require a longer back length.
Pockets are great at protecting against water, as they feature waterproof Dri-liners that zip up and zip down.

The four mesh exterior pockets and four compression straps are ideal for securely holding items without compromising comfort

Materials include 500D Kodura, 100D x 70D, and 40D ripstop nylon

Volume: 12L + 2 for external mesh pockets; Dimensions: 36 x 16 x 11; Weight with liners: 460 g; Weight without liners: 348 g
These pockets that attach to our lightweight daypacks are a natural green color and attach to the hipbelt via velcro and to the sides and shoulder straps via a clip. Shop today and see why Aarn USA is one of the best hiking backpack brands!
Volume

Gallons

Liters




Backpack
10
37
Mountain Balance Pockets
3.2
12

Dimensions

Inches

Centimeters

Backpack

Height: 23.6 Width: 11.8

Depth (front-back): 9.8

Height: 60 Width: 30

Depth (front-back): 25

Weight

Imperial

Grams

Backpack
2.3 Lb
1042
Mountain Balance Pockets
1 Lb
460
Bodypack
3.13 Lb
1420
Key Fabrics:
500D Kodura nylon, 210D, 70D x 100D & 40D ripstop nylon
Color: Green/grey
Recommended Maximum Load (Pack only): 38 pounds (17 kg)

(Click on Buttons to Evaluate and Purchase)
Hold tent, poles, foam pad, etc. on pack sides.
Lock skis to prevent movement
Lock snowboards to prevent movement
I found out about your pack on Backpackinglight.com where it was mentioned often by a few people but just kept slipping off my radar... I was going ultralight but I am pretty light myself - 5' 11" and only 135 - 140 lbs (I'm a 27 year old male).
I tried a LOT of backpacks (mainly Osprey and Gregory) with only 20 lbs or so in them but found them all uncomfortable, especially in the lower back. It seemed like my spine was curving in an S shape to support the pack with my lower back.
I ordered the Mountain Magic on an impulse as one last shot in the dark after I'd 'settled' for an Osprey Exos and it has been a game changer. I have no pain or discomfort while wearing the pack. Prior to this pack (also prior to cutting between 5 & 10 lbs of pack weight), I'd never done more than 10 - 12 miles in a day. Now I've done up to 22 mile days easily — and the limitation was daylight. I could have kept going. No pains or sore points and far less exhaustion.
Partly because of this, I'm planning a thru-hike of the Colorado Trail this August (about 500 miles in the Rocky Mtns., climbing more than 2000 ft / day on average). I'm hoping the Mountain Magic will do the trick! So congrats on an amazing pack. While I hiked along the Appalachian Trail here in New Jersey, many AT thru-hikers asked me about the pack. Some had heard of it but had never seen one in person. Others were very intrigued and couldn't believe they hadn't seen such a design before because it "just makes sense".
Arvind Murugan, USA
I totally wanted to tell you how much I LOVE my Mountain Magic Bodypack! It is the best thing to happen to my backpacking life! I just returned from tramping the Pyrenean Haute Route, from the Atlantic Ocean across the spine of the mountains to the Mediterranean. It took me 55 days (816 Kilometers and 35,633 meters elevation gain). My Aarn pack was so comfortable and allowed me such freedom of movement – it is awesome!!! I do have to admit that it was a bit heavy in the beginning (only my fault), and after the first 10 days, I mailed home 3.2 Kilos of gear (including my stove!) to get me down to about 17 kilos with food and water. Then it was really manageable. I had a great trip!
Talie Morrison, retired mountain guide, Crested Butte, CO, USA
Troubleshooting
| | | |
| --- | --- | --- |
| PROBLEM | CAUSES | SOLUTIONS |
| Sore Shoulders | Pull back force on shoulders from weight behind | Add Balance Pockets, or if using them, put more weight in them and loosen front shoulder strap webs |
| | Too much weight on shoulders | Loosen front shoulder strap webs |
| | Hipbelt has slipped down | Raise hipbelt & retighten &/or shorten |
| | Balance Pockets are pulling down on bottom of shoulder pads | Increase back length: Pull up on navy top back panel web |
| Bodypack is too hard to put on | Incorrect technique used | 1. Loosen hipbelt webs before putting the bodypack on for the first time. |
| | | 2. Follow this sequence: Place hands underneath Balance Pockets; grab hold of hipbelt center buckles, lift both Pockets & hipbelt up to the right height; clip center buckle together & tighten the tension web loop at top and bottom to get an even pressure at the top and bottom of the hipbelt |
| | | 3. When taking the pack off, before releasing the hipbelt center buckle, loosen the side buckles. With familiarity, you can release the 2 tensionlock buckles on each side with each hand simultaneously, by pulling the buckle ends up. Now you have set the pack up to be easy and quick to put on next time |
| | I no longer have the coordination anymore to master this sequence | Substitute Universal Balance Bags for Balance Pockets. These quickly and easily attach after you have put the pack on |
| My pack leans to one side | Your pack will lean to one side, like any brand of pack, if you have the shoulder straps and/or hipbelt adjusted unequally on both sides, or you have loaded the pack unevenly. | First check that the top stabilizer straps are equal length and the front shoulder strap webs are also equal length. Now check that the hipbelt parts are adjusted to equal length and angle on both sides of the center base plate and the side tension adjusters (cord or web) are of equal length both sides. Now with all these adjustments made, check that the hipbelt ends are sitting at a similar position on each side of your pelvis with the pack on. Finally, check that your U-Flow movement (the movement when you lift one shoulder), is equal on both sides. With everything centered, including the load, there should be no reason for your pack to lean to one side. |